Get Involved
There are many opportunities to be an active part of the community from small tasks to large. Below is a listing of some areas that people can take part on a regular or occasional basis.
We use an online sign up tool for some of our regular weekly tasks at UCiM. You can view our sign ups by clicking the button here: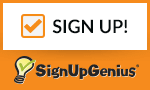 Not sure how to use Sign Up Genius? Click Here for a quick How To
"Many hands make light work."
---
We are currently looking for help or donations as listed below. We also like to use this page to show our appreciation for all our volunteers at UCiM who make this a fantastic place to be!
---
We are a busy place and could not do what we do without the support of our congregation both financially and with sharing their gifts of time and talent. Take a look at our Narrative Budget here for more information about the life and work at Meadowood. There are always small jobs and tasks that can be done in a building as busy as ours. If you feel passionate about or have a talent to share with us, please call the church office at 204-256-7002 or email ucm@ucim.org
Our Sunday worship service is at the heart of our life here at Meadowood. If you are excited to become a part of our regular worship, or would like to contribute just once or twice, we have many tasks on Sundays that need to be filled. We need scripture readers, Sunday hosts and communion servers. We also invite those who would like to share their musical talents with us to get in touch!
Do you like office work? Is filing and organizing your thing? We occasionally need office administration relief, help with bookkeeping and data entry. We also need people with skills in technology to help out from time to time.
Do you love working with little kids, or do you prefer older children? We have opportunities for working with all ages of children, from toddlers to teens. We love to welcome new leaders for our Christian Education programs and mentors for young adults, but we also have tasks for those that prefer the role of helper too. If working with kids isn't your thing, but you love the idea of contributing to our CE programs, we often need an extra pair of hands to prep supplies, organize the Children's Church rooms and more.
Are you a financial whiz? Do you love counting and keeping track of money? The finance committee is always on the lookout for offering counters, help with budget planning, and organizing fundraisers. Those who lead our annual stewardship campaign also love a helping hand in the fall as well.
Do you love meeting new people? Would you enjoy being a smiling and welcoming presence on Sunday mornings? Our Sunday Hosts are responsible for making sure everyone who walks in our doors on Sunday mornings is welcomed home.
Do you like to be busy and helpful, finding comfort in participating in the hustle and bustle of our busy church? Our fellowship committee needs people to help out with setting up tables, putting out food, cleaning up and washing dishes at many events held throughout the year.
Are you passionate about welcoming newcomers into our space, and keeping in touch with members of our faith community? We love having new people help out with welcoming those who are new to Meadowood and being a part of our Keep In Touch Caller team and entering data from our weekly welcome books.
Our Pastoral Care team is involved with making sure that those who are unable to come to church are still included and remembered as a part of our church family. If you want to reach out and share some joy, we would love to talk to you about how to become a pastoral caller and visitor. We also need people to deliver pastoral gifts at Christmas and Easter.
Do you like to help out but prefer to stay behind the scenes? We love to have handy people come and help our with general maintenance, painting, cleaning bees and more. Seasonally we also look for those who would like to help with mowing the lawns, keeping the flower beds tidy and snow shovelling too.
The UCW ladies are an active part of our congregation, often helping out at fellowship events throughout the year, making and serving food for funerals, Mothers Day Tea and other events. If you would like to contribute food, or get together for making sandwiches, assistance in these areas is always appreciated.
Is technology your thing? We love to have newcomers join our team of AV people, working in the booth on Sundays, or helping with the ucim.org website.
Our Outreach Committee is a hard working group that is passionate about extending our Christian presence in our community. We have people who volunteer at West Broadway Community Ministry, help out with Christmas hampers, participate in discussion Sundays and support our Syrian Refugee families. If you want to join in with any of these areas, we are always ready to welcome a  new member.
The UCiM Mens Group is open to all who would like to join! They meet on a monthly basis to share a meal and meeting. They often need help with event planning, support at the Mothers Day tea and WBCM lunches, and help with set up and take down at funerals.